Vineyards. Visionary. Distinction.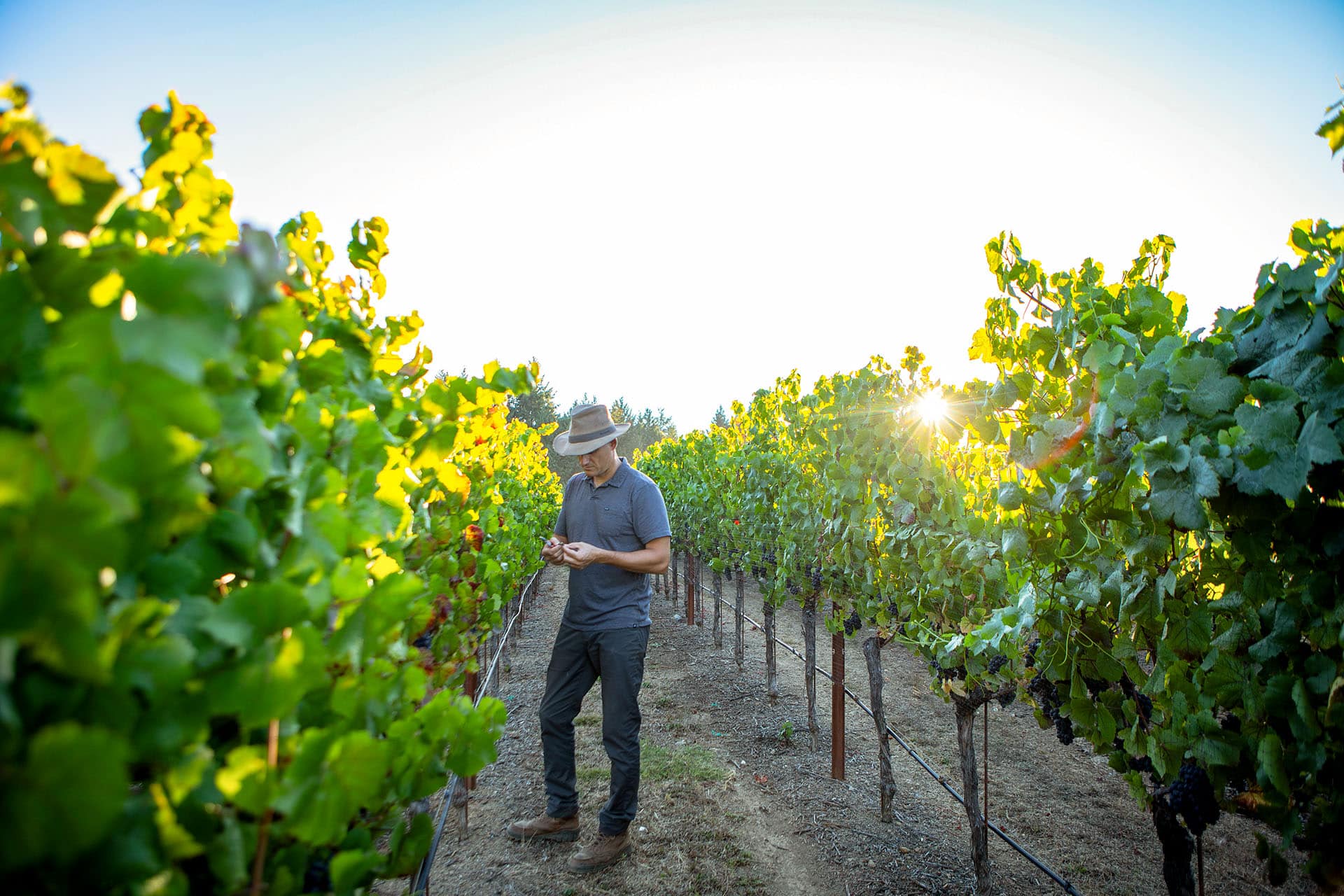 July 2023
Earlier this year, we shared that some changes were beginning at Three Sticks related to our portfolio of wines. Well, the time has come to announce them to you, our wonderful customers and friends.
For twenty years, we have made wines from our estate vineyards, which you have come to know well: Alana, Durell, Gap's Crown, One Sky, Walala, and William James. We also made a few wines that included estate and purchased fruit from farming partners outside our organization. Now, as a mature and renowned pinot noir and chardonnay house, we are shifting our entire wine portfolio to be 100% estate grown. Every single bottle of wine we make will be made from fruit that we farm from properties that we own. This is a proud moment for us. Three Sticks started in 2002 with two pinot noir barrels from our home ranch, Durell. Growing steadily over the years, we now have enough demand to use the majority of fruit from our estate vineyards and make a collection of wines from these INCREDIBLE Sonoma County sites. 
The impetus behind this is that we can and, therefore, we should. Quality is our obsession and mantra. Studying our vineyards and having control over every single grape that enters the winery gives us many advantages. Being 100% estate is extremely rare in our world, which we know because we sell grapes to a selection of esteemed producers. Three of our six estate vineyards, Alana, One Sky, and William James, are farmed by hand, organically, and by their own dedicated vineyard crew entirely for Three Sticks. Managed by Vineyard Manager Shelby Rockefeller and overseen by Vice President of Vineyards Rob Harris, these sites are babied, obsessed over, revered, and held as sacred in our world – they are the Monopoles. Monopole is a word in French that means "a designated wine-growing region controlled entirely by one winery." And while these vineyards are not big in size, the gravity of this meaning is fundamental to us.  
And what of our three largest and best-known vineyards? Durell, Gap's Crown, and Walala. These vineyards and the wines we make from them we now call our Heritage collection. The distinction is that these properties had rich, long legacies prior to our owning them, and our main job is to not rewrite history but to keep traditions and quality alive. Another factor in setting these sites apart is the fact we share the fruit with select producers in the industry, creating a collective community of amazing wines.
For this reason, we refer to them as our Heritage vineyards and wines. For Durell and Gap's in particular, we dove into the diversity and depths of these vineyards and are making multiple wines and expressions from these properties. With the freedom to explore and choose from various microclimates, it has led to some wines that are unique in the marketplace. Durell Vineyard Pinot Blanc, Origin Chardonnay, Casteñada Red, and Rosé are all in addition to our flagship pinot noir and chardonnay from that property. At Gap's Crown, not only do we have the fabulous pinot noir and chardonnay from the ranch, but we are introducing a very special new wine in 2024 called the Gap's Crown Pinnacle Pinot Noir that will knock your socks off.
These moves are not without risk, as it eliminates our ability to buy grapes if yields are low, as they have been the last few years. In these times, we do not have the flexibility to buy grapes to meet the demand for Three Sticks wines. However, over the past 25 years, we have learned that absolute control over our vineyard practices and harvests allows us to make the most iconic and remarkable wines. Making the best chardonnay and pinot noir we can is what defines us at Three Sticks.
In conclusion, at Three Sticks, we are finally 100% estate, our Monopole vineyards and wines are extraordinarily small and special, and our Heritage vineyards and wines are as important and fundamental to our industry as they have always been. Thank you for coming along for the journey. Your continued support means the world to us. As we look ahead, we are excited to share that the debut of these changes starts with our Fall Release, which will begin on August 1st for our allocation members, and August 15th for our mailing list. 
We can't wait to present these exceptional offerings that truly embody the essence of Three Sticks. Many new promises and adventures are coming, and we are grateful to have you by our side. With love and appreciation,

Bill Price and Prema Kerollis


Club Allocation membership offers unique benefits for our supporters to get the most out of our bi-annual releases in the spring and fall, with the opportunity to acquire additional wines throughout the year during our Rosé, Pinot Blanc, and Casteñada Releases.