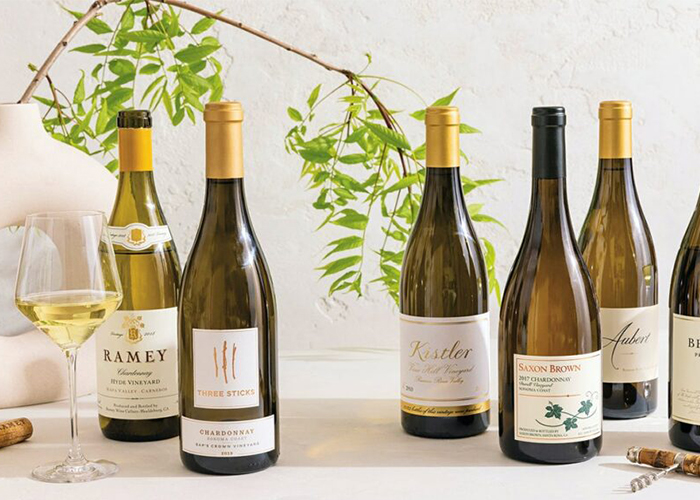 Terroir-driven wines lead the charge to more refined and structured styles across the state
By Kim Marcus - July 31, 2021 Issue
California Chardonnay is decisively moving away from the days when big, buttery and oaky versions dominated the upper echelon of the market. The new generation of wines coming on the scene, defined by gentler fermentations and a lighter use of oak, is fostering an explosion of quality across the Golden State. Senior editor Kim Marcus reviewed recently released bottlings in the July 31, 2021, issue of Wine Spectator, finding high quality across the board in both the successful 2018 and 2019 vintages. Get his scores and tasting notes for top wines, smart buys and value picks.
Although many other top-rated Chardonnays also qualify as single-vineyard or vineyard-designated wines, not all of them adhere strictly to the Burgundian model, since most of California's well-known vineyards would dwarf anything in Burgundy. Hyde, for example, is nearly 200 acres, and 14 different wines in this report alone carry its moniker. On the South Coast, the Bien Nacido Vineyard is 800 acres, with 300 of them planted to Chardonnay. Renowned vineyard tracts in Sonoma such as Sangiacomo and Durell are also large. At most of these sites, individual vineyard rows and blocks are cultivated to the specific requirements of the winemaking client.
With 130 acres under vine, Durell is the centerpiece of Bill Price's Sonoma vineyard empire. Price also owns Kistler, Three Sticks and Gary Farrell wineries, along with the large Gap's Crown Vineyard, which is known mostly for Pinot Noir. Three Sticks' consulting winemaker Bob Cabral explains that Durell features a range of terroirs and exposures, from lowland parcels filled with gravels from an ancient riverbed to higher terrain composed of rocky basalts from nearby volcanoes.
Cabral calls the Three Sticks Sonoma Coast Origin Durell Vineyard 2019 (94, $60), with its rich acidity backing crisp white fruit, citrus and savory mineral flavors, one of the most memorable Chardonnays he's made. He credits the 2019 vintage overall, but is unable to pinpoint any particular reason the Durell excelled except for the pedigree of the vines themselves, which, he says, are older and "self-regulating."
"As I work more and more with the same blocks up on the ridge, they impart a real textural component in the wines," Cabral explains. "It's the volcanic clays and gravels that give lemon drop notes, with more subtle flavors of Asian pears and nectarines, but not fruit-forward." Rich textures and subtle flavors, whether it be fruit or butter or spice, is the name of the game these days for a growing cadre of Chardonnay vintners across California. Both the 2018 and 2019 vintages delivered a wealth of wines to explore in this style, with the promise of many more to come.