Recipe: Glen Ellen Star Brick Chicken with Red Floriani Polenta, Overripe Strawberry Harissa, and Garden Sorrel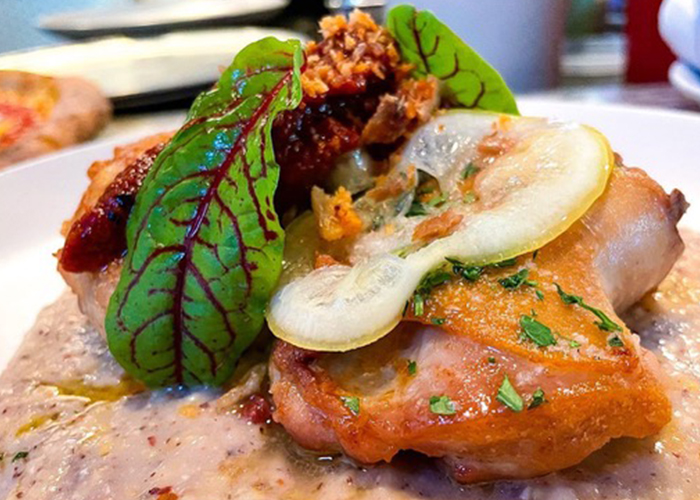 Glen Ellen Star is a rising culinary establishment in Sonoma County that strives to provide a personable yet refined dining experience for those who love food, led by Chef Ari Weiswasser and his wife Erinn Benziger-Weiswasser.

For the chicken:
Brine 2.75lb. Mary's Chickens for 1 hour in a 5%/2.5% salt/sugar brine ratio. Then, dry on a rack for 24 hours, remove in 1/2s and debone the thighs, wing and drummet, leaving the breast and thigh connected. Cook the chicken skin side down with a brick wrapped in foil on medium high heat in canola oil until well colored, about four minutes. Place in the oven at 400 for 12 minutes. Flip and add butter, crushed garlic and thyme. Allow to cool for three minutes in the pan.
For the polenta:
Our red floriani polenta is made from a single varietal red corn kernel, grown by Tierra Farms in nearby Santa Rosa. Cook a 4:1 ratio of simmering chicken stock (4 cups) and polenta (1 cup). Finish with salt, butter, and parmesan to taste.
For the harissa:
4 DRIED NEW MEXICO CHILES, STEMMED, SEEDED AND TORN INTO ROUGH PIECES
½ CUP CANOLA OIL
6 LARGE GARLIC CLOVES, CHOPPED
1 TEASPOON CARAWAY SEEDS
1 TEASPOON CUMIN SEEDS
1 CUP DRAINED ROASTED RED PEPPERS, PATTED DRY
½ CUP DRAINED OIL-PACKED SUN-DRIED TOMATOES, PATTED DRY
2 CUPS CHICKEN STOCK
1 TABLESPOON DISTILLED WHITE VINEGAR
KOSHER SALT
CAYENNE PEPPER
Toast the chiles in oil for three minutes over medium heat. Add garlic and spices and sauté for two minutes. Add remaining ingredients and cook for 15 minutes. Process in a food processor until smooth, season with additional salt and vinegar to taste. Add equal parts strawberry preserves – Glen Ellen Star uses the famous local Watmaugh Strawberries.
Garnish with fried chicken skins and garden sorrel leaves, and pair with either our 2019 William James Vineyard Pinot Noir or 2019 Durell Vineyard Pinot Noir - Two vibrant pinot noirs that complement this delicious dish beautifully and are available now through our Fall Release.