Recipe: Glen Ellen Star Wood-Roasted Cauliflower With Tahini, Almonds, and Sumac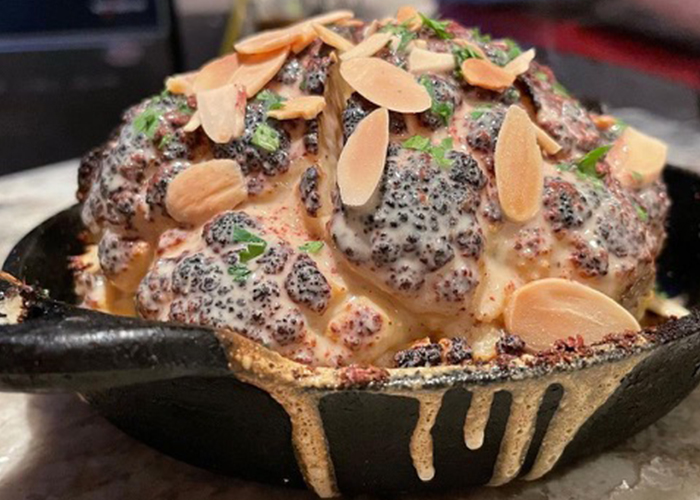 Glen Ellen Star is a rising culinary establishment in Sonoma County that strives to provide a personable yet refined dining experience for those who love food, led by Chef Ari Weiswasser and his wife Erinn Benziger-Weiswasser. Prema loves their wood-roasted cauliflower so much, we got the recipe and have been dreaming of cooking it up with our favorite chardonnay.

Trim the cauliflower edges at the base, so it's even, and remove the green leaves and base, so it stands flat. Season with canola oil, salt, and pepper. Place on a half sheet tray on a rack and roast in a convection oven at 350° for 45 minutes or until tender.
Remove and place snug in a cast iron pan, score 3 ways (6 portions), and roast at high heat - preferably using wood oven at 650 F until well caramelized. Finish seasoning with fresh lemon juice, high-quality tahini, sel gris, sumac, almonds, and parsley.
Enjoy right away with our 2019 Durell Vineyard Chardonnay or 2019 Alana Vineyard Chardonnay - Two vibrant white wines that complement this delicious dish beautifully and are available now through our Fall Release.