Recipe: Pumpkin Panna Cotta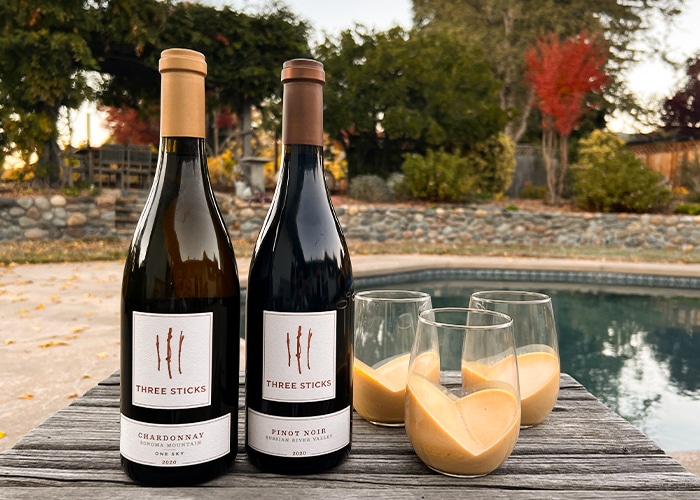 ---
This fall, we have been lucky to add a new chef to our culinary partners, Abri Chavira. Chef graduated from Le Cordon Bleu in 2008 and believes "food is life and food is the ultimate expression of, and journey into, the inner soul." With love for farm-to-table, Chef works closely with local wineries and takes advantage of the world-renowned agriculture wine country has to offer, and we are lucky enough to do just that. His culinary craftsmanship is one that will leave you salivating for more. We hope you enjoy this pumpkin panna cotta as much as we did - and we must say it pairs very nicely with either our 2020 Sonoma Mountain One Sky Chardonnay or our 2020 Russian River Valley Pinot Noir.
---
4 C Whipping Cream
1 ½ C Milk
2 T Gelatin
1 ½ C Pumpkin Purée (canned is a good substitute)
1 C brown sugar
4 t vanilla extract
2 T ground cinnamon
1 t ground nutmeg
1 t ground ginger
1 t ground allspice
1 t ground cloves
---
In a small bowl add gelatin to cold milk and allow to bloom for about 5 minutes – until it absorbs the milk and looks like a messy gel consistency.

In a medium to large pot whisk the whipping cream, pumpkin puree, brown sugar, vanilla extract, cinnamon, nutmeg, ginger, allspice and cloves until you reach a smooth texture. Bring to a boil.

Once boiling drop heat to a low simmer and add gelatin mix. Whisk until completely dissolved – about 5minutes.

Remove from heat and pour into either ramekins or wine glasses. If using wine glasses allow to cool before placing in the fridge or the glass could break.

Allow up to 2 hours to set in the fridge – the texture is firm yet bouncy.

Enjoy!