Getting to know our Assistant Winemaker, Carl Formaker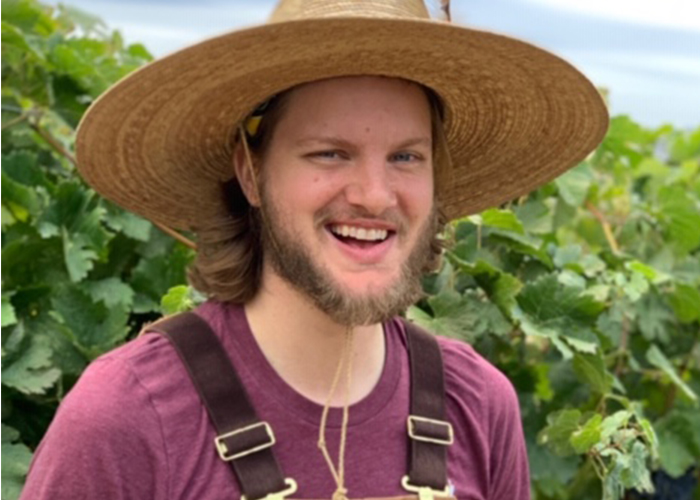 Carl joined Team Three Sticks in 2017, impressing the team with his enthusiasm, knowledge, passion, and dedication. Carl's energy is infectious - he's everyone's favorite teammate to bring on the road for events, pourings, receptions and more. We're lucky to have him, and we're sure you'll meet him soon if you haven't already!
What's the most valuable thing you've learned from Bob, our Director of Winemaking?
Bob has shaped the way I think about planning cellar operations and how I approach a wine throughout its production. A large responsibility in my position is to schedule and coordinate daily cellar tasks. Rather than focusing on what is happening in the present, Bob has guided my thought process to anticipate what needs to be accomplished in the forthcoming days and recognize which specific operations may be limiting steps. A similar approach can be applied when evaluating an infant wine. Understanding how the components of a wine will interact amid fermentation and develop during barrel aging gives one the ability to foresee how it will taste upon its release and subsequent bottle cellaring.
2. If you weren't making wine, what would be your ideal job?
I would be a sports play-by-play broadcaster. The ability to capture a moment and relay the emotion and experience to the viewer through dialogue is a special talent.
3. It's the middle of harvest and your day to play music in the cellar. What are we listening to?
During 6am punch downs, one can expect to hear a Jock Jams playlist. Nothing like letting the rhythm take control to break a sweat! I am always a fan of putting on Electronic Dance Music, likely from Zhu or Odesza, for racking or wine movements. Outside of harvest, we have a long-standing tradition to play Bob Marley or a Reggae playlist on Fridays.
4. What's the weirdest thing you've ever eaten?
I just recently ate Balut, a delicacy in the Philippines. I'll let you have the pleasure of looking that up if you aren't familiar. Needless to say, I won't be trying it again.
5. What wine region is at the top of your vacation list?
Tuscany is at the top of my list. The combination of beautiful countryside, cuisine with fresh seasonal ingredients, world-class art and sculptures, homemade pasta and delicious wines seems like the perfect recipe for a vacation. While in Italy, I would take a train north to Barolo to see the Nebbiolo vineyards and taste the fermented fruits of their productions.
6. What's your craziest harvest or production experience?
During an international harvest, all of the fruit was delivered to a large hopper that was sent to the fermentation tanks via a must pump by 4-inch hoses. These hoses would be 200 ft long at times and would stretch into the winery to tanks unseen by the operator. I was cleaning a tank when the winemaker ran towards the operator waving his arms and yelling to stop the pump. When I walked into the other room, the hose had burst and about 3 tons of fruit was piled up on the cellar floor.
7. If you're not drinking Three Sticks, what are you drinking?
As a Russian River native, one will find Pinot Noir from SonomaCounty in my glass the majority of the time. I can't get away from my roots! As supplements, I enjoy German Rieslings and hazy IPA's (preferably from Humble Sea) that we call "freshies" in the cellar.