Bill on the 97pt 2017 Price Family Estates Pinot Noir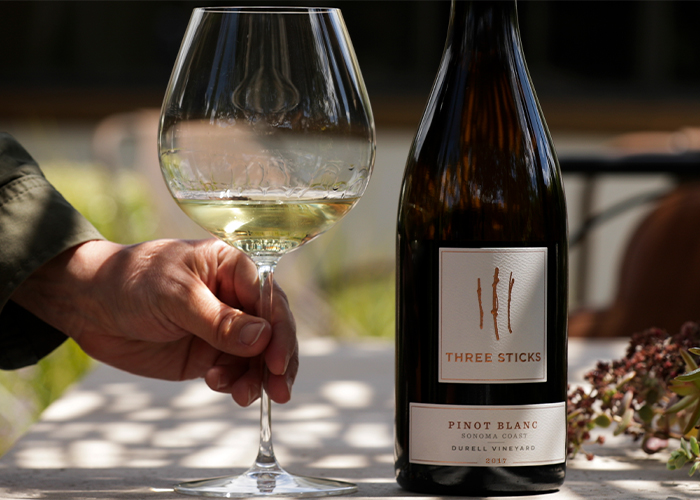 Every year, our Price Family Estates Pinot Noir is a fan-favorite. A blend of our best grapes from Durell, Walala, Gap's Crown, along with a few others, this wine is always a representation of our estate properties and the vintage itself.
The 2017 was a particularly impressive release, as noted by Decanter Magazine. Of the 16,500+ wines tasted in their annual World Wine Awards, only 50, or .3%, were awarded Best in Show. The 2017 Price Family Estates was one of those wines and we were beyond thrilled by the results. Even more exciting was the fact that we were the only Pinot Noir from the U.S.A. to be awarded the top mark. Given the excitement around this wine, we sat down with Bill to talk about this specific Pinot, his philosophies on wine and winemaking, and some background on Three Sticks Wines. Enjoy!
What are you trying to express with the winning wine, what is it supposed to represent? The Price Family Estates Pinot Noir is a cuvée of Pinot Noir from our estate vineyards. Unlike a single vineyard wine, where the vineyard dictates what kind of expression is in the bottle, this Pinot Noir cuvée gives us the opportunity to create our vision of the best expression of California's Sonoma Coast Pinot Noir. It allows our winemaking team to display their blending skills to the fullest extent.
Tell us something about your personal history, wine-related and otherwise. My father was born in France and passed on to me a deep appreciation for wine and especially vineyards. When I was in college, I started visiting Napa and Sonoma to understand winemaking and grape growing, and began my wine collection which has now grown to 10,000+ bottles. Later, TPG the investment firm I co-founded, bought Beringer and a collection of other winery properties, which was my first introduction to the business side of wine. Because of that collection, I had the opportunity to buy the famous Durell vineyard in 1997 and began the expansion of that historic site. I believe great wine starts in great vineyards so it was a dream fulfilled to begin my personal work in the wine industry with Durell. I took the responsibility of Durell's legacy very seriously and my learnings from that property helped shape my decisions in creating a world-class vineyard and winery portfolio.
What is the history of Three Sticks? In 1997, Durell already had an exciting history with a proven track record as a Grand Cru level vineyard in Sonoma County. I was excited to continue Ed Durell's vision in Sonoma and beyond. I continued to sell grapes to previous winemakers who were doing a fabulous job with this fruit and over time I became interested in creating a small amount of wine from the vineyard for my friends and family. In 2002 I started to make wine under the Three Sticks brand. Three Sticks comes from my high school nickname, Billy Three Sticks. Since then, we have slowly grown production while planting and buying new vineyard properties. We developed 2 small vineyards in the Green Valley of the Russian River Valley which we named the William James Vineyard and the Alana Vineyard (after 2 of my children), and another - One Sky Vineyard - on Sonoma Mountain. We also purchased Gap's Crown Vineyard in the Petaluma Gap of Sonoma Coast in 2013 and Walala Vineyard in the far northwestern corner of Sonoma Coast near the Pacific Ocean in 2014. With this family of vineyards, we are excited to be almost exclusively making wine from Estate-grown grapes. We think of our customers as family and welcome them to taste and share wine and table fellowship at the Three Sticks Adobe, our historic home where we host private, seated tastings in downtown Sonoma.
What do you aim to represent through your wines? Our primary ethos is to grow world-class grapes in a sustainable, earth-friendly way. Our goal in each wine is to showcase the unique aspects and terroir of our vineyard sites, while ensuring pleasurable mouthfeel and rich aromatics. We want these wines to sing in the glass, age with grace and beauty, and bring friends and family together to experience the best that Sonoma County Pinot Noir and Chardonnay has to offer. Bob Cabral, our Director of Winemaking, and Ryan Prichard, our Winemaker, are hyper-focused on creating wines that balance acidity, fruit, structure, and mouthfeel.
Can you describe the grape/s of the winning wine, plus its terroir and the climate? The estate vineyards that were used in this wine come from diverse geographical locations along the Sonoma Coast. We carefully selected sites that live in confluence areas of fog, wind, sunshine, soil, and mountain. Whether it is from the hilltops of Walala Vineyard surrounded by conifer forests in the far Sonoma Coast near the Pacific Ocean or the unrelenting wind and fog that pours in through the Petaluma Gap at Gap's Crown Vineyard, our grapes are grown in extreme conditions. In these locations, the grapes form thick skins to protect themselves against the elements. We draw on our twenty plus years of growing grapes in these vineyards to perfectly match the clones and rootstocks to each site. These grapes create wines with expressive fruit and spice complemented by a refined tannic structure. It certainly is a challenge at these sites, but we feel these types of conditions are where lasting and memorable wines are born.
What is the annual production of the winning wine? 865 cases of the Price Family Estates Pinot Noir were made and our total production is 7,000 cases.
When was your first vintage? Three Sticks' first vintage was one barrel of Durell Vineyard Pinot Noir in 2002.