Recipe: Fried Eggs with Charred Spring Onions and Romesco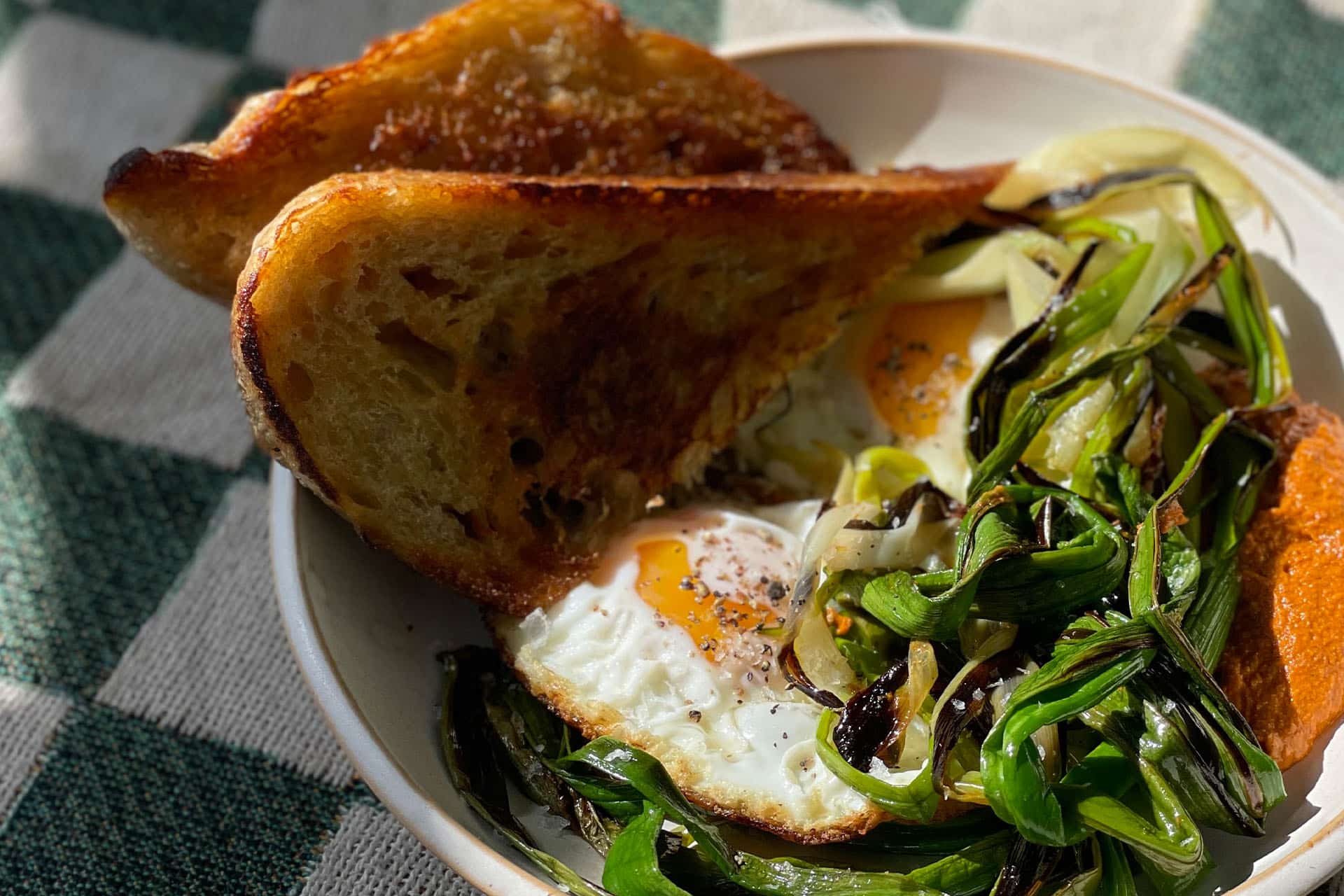 March 2023
Our partner, and Sonoma Plaza neighbor, Valley, has some of the. est California cooking you can find. We are thrilled they will be a partner with us at our Destination Durell 2023 event and cannot wait to indulge our taste buds with this recipe. We recommend you pair with good company and our 2022 Casteñada Rosé
"The Catalan have an incredible culinary tradition of celebrating calçots, essentially spring onions, as the centerpieces of open fire grilling parties called, aptly, calçocadas. Served with romesco sauce, they are aromatic and delectable. Delicious as a side or starter, with a piece of grilled meat or fish, or fried eggs and toast for brunch!"
-Valley
Recipe – Serves 4
ROMESCO
~ Ingredients ~
¼ cup roasted red peppers
½ cup walnuts, toasted
½ cup roughly chopped parsley
2-3 cloves garlic, microplaned or chopped
1 spoonful pimentón
1 spoonful sherry vinegar
1 tsp salt
½ cup olive oil
~ Instructions ~
Put all ingredients in a blender or food processor except the olive oil. Emulsify by drizzling in the olive oil slowly to combine. You want a smooth paste. Adjust seasoning to taste Romesco will keep for several days in an airtight container in the refrigerator.
CHARRED SPRING ONIONS
~ Ingredients ~
Spring onions, 1-2 onions per plate
Oil
Salt
Lemon
~ Instructions ~
Clean and trim your spring onions. Remove any outer layers that are hard or dirty. Rinse any grit. Trim the root end, leaving a small amount of the bulb to keep the onions together. Chop the uneven and raggedy tops off, reserving for another use.
Heat a grill or a cast iron skillet to medium hot. Oil the surface, then lay down the onions in a single layer. Cook in batches if necessary.
Keep an eye on the heat – you want your onions to char, but not burn. You want the onions to steam cook at the same time. You can cover your pan or place something on top of the cooking onions to retain heat, if needed.
When the onions are sufficiently cooked, remove from the heat. The onions should be soft, but not completely collapsed.
Sprinkle them with salt and drizzle with lemon. Serve with a sharp knife, or rough chop for ease.


Club Allocation membership offers unique benefits for our supporters to get the most out of our bi-annual releases in the spring and fall, with the opportunity to acquire additional wines throughout the year during our Rosé, Pinot Blanc, and Casteñada Releases.