Breaking News: Ryan Prichard – Now Director of Winemaking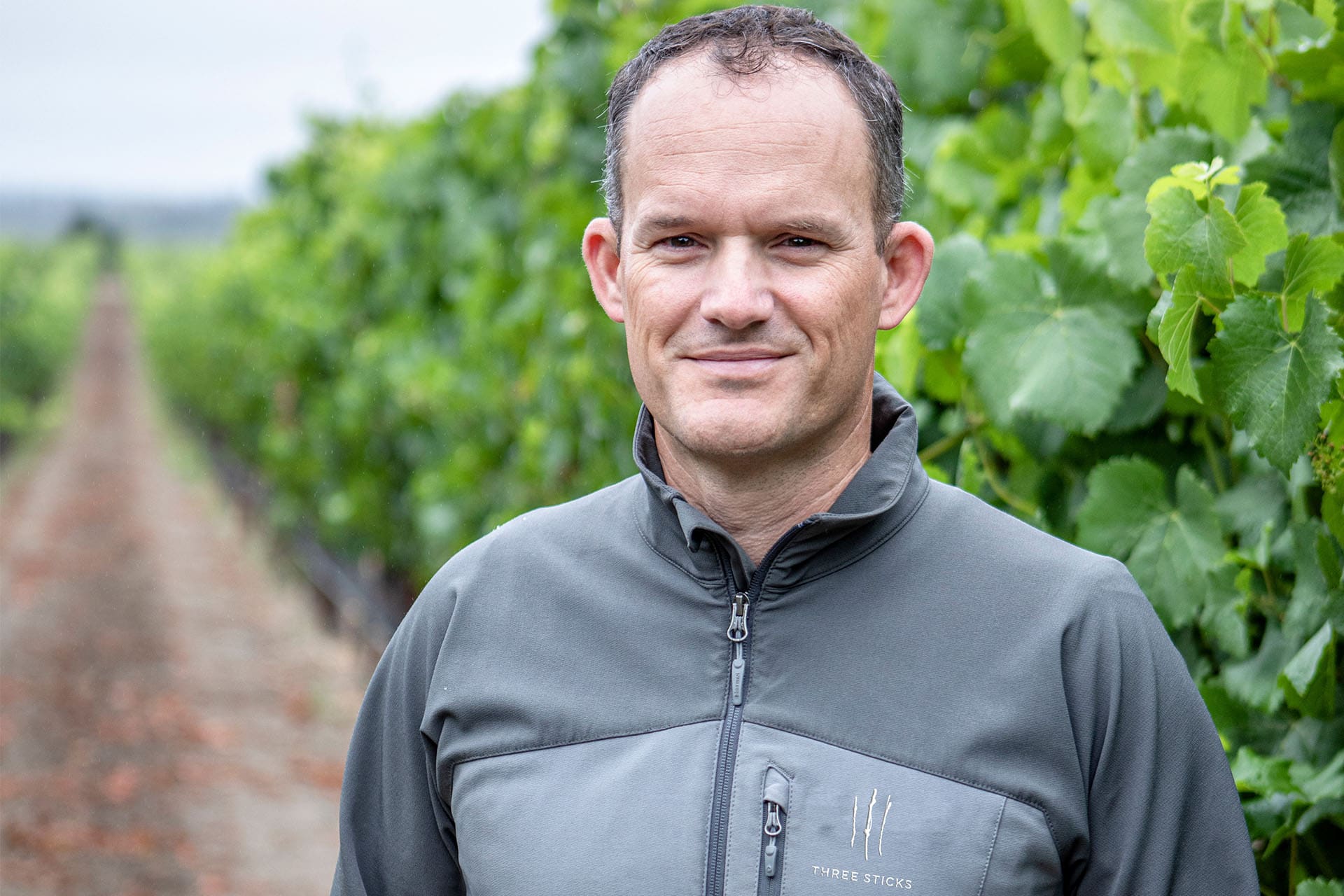 February 2023 
Three Sticks Wines is pleased to announce that Ryan Prichard is formally succeeding Bob Cabral as Director of Winemaking. Prichard and Cabral joined Three Sticks in 2015 and have been working side-by-side to craft Three Sticks' exceptional estate Pinot Noirs and Chardonnays. With Cabral moving into an advisory role over the last few years, this promotion was a natural one. Prichard brings over 18 years of experience making wines at premiere Sonoma County wineries such as Williams Selyem, Copain Custom Crush and Medlock Ames. Prichard's focus is unchanged at Three Sticks, to continue crafting estate-only Pinot Noir and Chardonnay that showcase Three Sticks' exceptional vineyards, producing wines of distinction and acclaim.
Reflecting on his successor, Cabral comments, "Ryan has been the lead winemaker at Three Sticks for years, so this transition, while subtle, is still an exciting time of growth and opportunity for Three Sticks and Ryan. Three Sticks is ready for its next chapter as I leave the reins of all winemaking to Ryan, who has demonstrated leadership, forethought, and a unique talent."
Ryan responds, "I am eternally grateful to have been able to spend the last eight years working with and learning from my longtime mentor, Bob Cabral. As I look towards the future here at Three Sticks, I am eager to continue working with our exceptional team to craft wines of elegance that showcase the exceptional fruit of our world-class estate vineyards."
Born and raised in Northern California, Prichard's passion for wine blossomed while taking a wine appreciation course at Cornell University in Ithaca, NY. Wine stuck with him and he pursued a certificate in Enology from UC Davis. Prichard worked with smaller wineries in California and Colorado before joining Williams Selyem in Healdsburg to learn the craft of Pinot Noir and Chardonnay winemaking. While running the cellar at Sonoma County's premier Copain Custom Crush, he was able to work with dozens of the county's best winemakers. From there, Prichard moved to Medlock Ames in Healdsburg. Ryan has been with Three Sticks since 2015 and lives in Santa Rosa with his wife and two children.
Owner Bill Price lauded Ryan's talents, "This promotion is well earned. Ryan has been making world-class wines at Three Sticks for years and is an essential part of our future vision. We are excited to support his growth and evolution as a winemaker and craftsman, in particular looking forward to the wines he will continue to make from our vineyards."


Club Allocation membership offers unique benefits for our supporters to get the most out of our bi-annual releases in the spring and fall, with the opportunity to acquire additional wines throughout the year during our Rosé, Pinot Blanc, and Casteñada Releases.