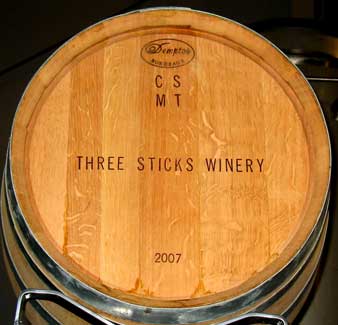 Welcome to the Three Sticks web site (the "Site"). We are very pleased to welcome you to our site, but before you read on about Three Sticks, we would be grateful if you would take a few minutes to read the important information that follows.
The purpose of this section is to describe the conditions (the "Terms") that apply to your access to and use of our Site. The following points may help you to understand the legal environment in which we operate:
Legal drinking age
To use this Site you must be of legal drinking age in your state or country – if you are not, please exit this Site immediately. We look forward to informing you about Three Sticks wines at an appropriate time in the future. If you are of legal age, our products should be enjoyed and consumed only in moderation. Please visit www.acceptresponsibility.org/ for more information.
Restricted Territories
In some places in the world it is not permissible for citizens to visit a Site like ours due to local laws restricting the sale and/or promotion of alcoholic beverages. You are responsible for compliance with the laws of your home territory or country. If you are visiting this Site from a place where restrictions apply, then you should exit this Site now. If you are unsure about the law then we suggest that you exit now and check your legal position before continuing.
Privacy
It is important that you understand the way in which we will use the information we hold about you. Our privacy policy (link to PP page) will provide you with further details.
Rights
All of the material you see on this Site is owned by us or used by us with the consent of the owner. We are very happy for you to visit this Site and to print copies of material on it for your personal, non-commercial use, but all other copying is prohibited and all other rights are reserved.