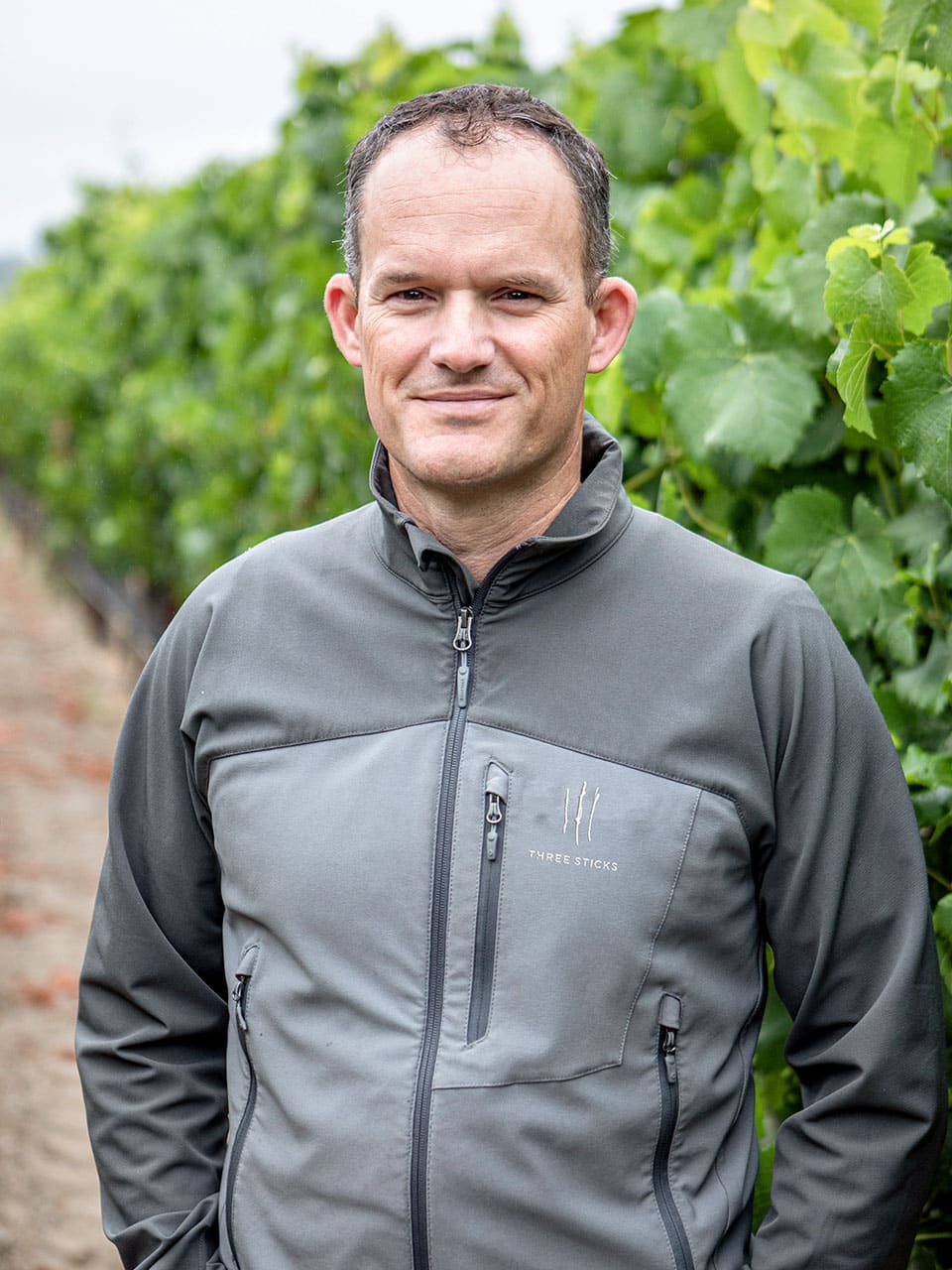 Director of Winemaking
Ryan Prichard joined the winemaking team at Three Sticks in 2015. In recognition of his exceptional skills and expertise, he was appointed Winemaker in 2017 and in 2023, Ryan was promoted to the position of Director of Winemaking, assuming overall responsibility for the winemaking operations at Three Sticks. He is known for crafting distinctive estate pinot noir and chardonnay wines that showcase Three Sticks' iconic Sonoma County vineyards.
Before joining Three Sticks, Ryan spent nearly two decades working alongside acclaimed winemakers at premiere Sonoma County wineries, including Williams Selyem in Healdsburg, where he learned to craft exceptional Pinot Noir and Chardonnay, as well as Copain Custom Crush and Medlock Ames in Healdsburg.
A Northern California native, Ryan's passion for wine blossomed 3,000 miles from home, during a wine appreciation course at Cornell University in New York. The class did more than teach him about the nuances of tasting wine; it helped him realize that as a winemaker, he could spend his life weaving together agriculture, art and science to capture the essence of place and time. Ryan went on to earn a winemaking certificate from UC Davis while working as a technology consultant in Colorado, and he eventually moved back to California to pursue a full-time winemaking career.
His leap of faith paid off; Ryan soon found himself working with some of California's best winemakers and Sonoma County's most celebrated vineyards. In 2020, in recognition of his accomplishments at Three Sticks, he was honored to receive the Rising Wine Star Winemaker of the Year award from LuxeSF and was named by Wine Enthusiast as one of the Maestros of Chardonnay in 2022.
Ryan views winemaking as an endeavor in balancing contrasts. "You must be precise yet flexible, spontaneous yet by-design," he says. "I strive to create wines for immediate gratification that will also stand the test of time."
His intimate relationship with each of the winery's vineyard properties shines through in the distinctiveness of the Three Sticks Wines, and Ryan is currently spearheading the winery's transition to 100% estate-grown wines.
Ryan lives in Santa Rosa with his wife and two children.