Recipe: Charred Eggplant Purée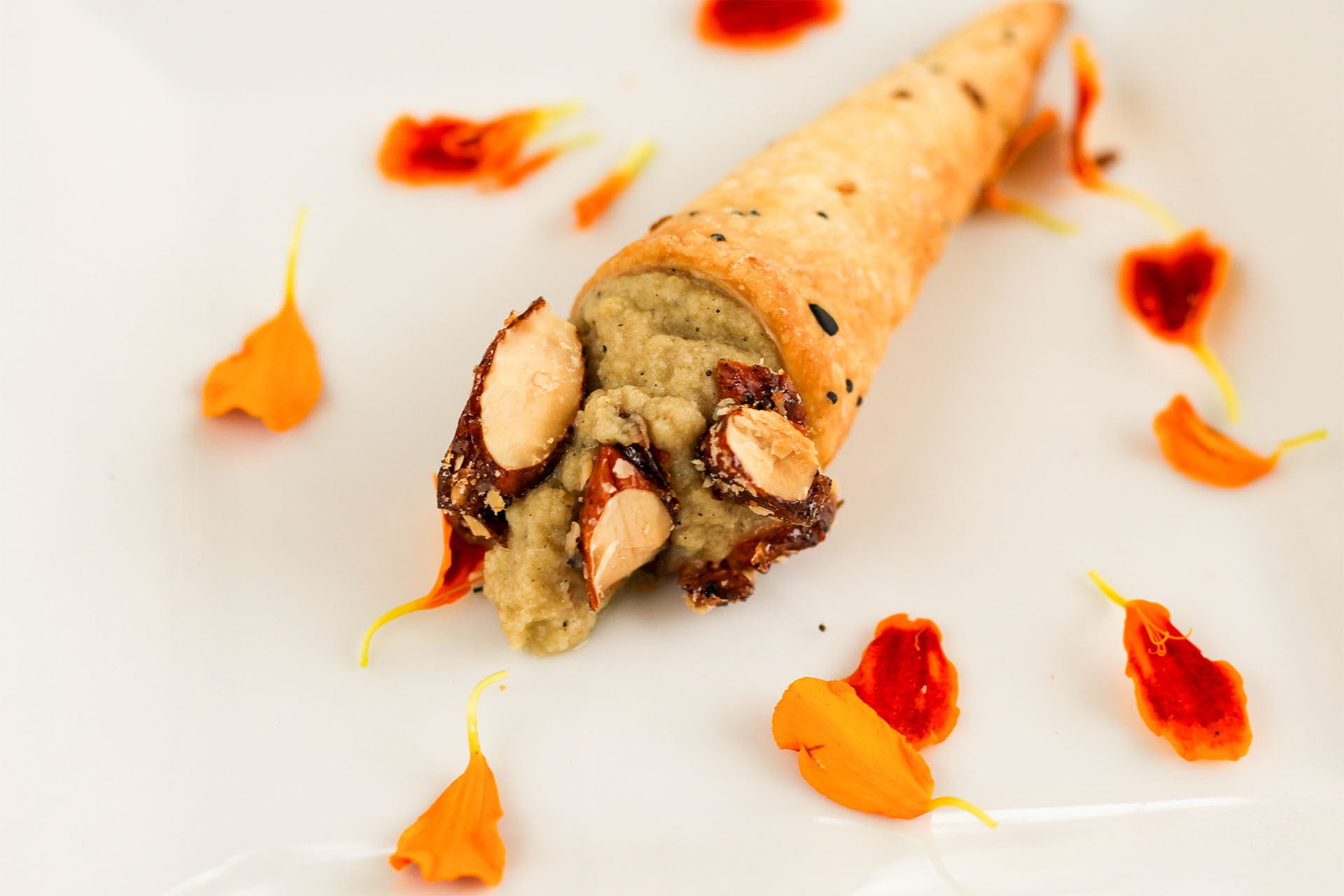 August 2023
Our partnership with the Wine Country Collective offers a Food & Wine Pairing that is a favorite among Adobe visitors. Curated by Chef and Owner Oscar Bendeck, a Le Cordon Blue-trained culinary expert, his enthusiasm for food and our wines results in a unique and exquisite experience designed to delight your senses. Through this private educational pairing, you will discover how his curated dishes interact with and enhance the key characteristics of our pinot noirs and chardonnays. This fall release we bring you his Charred Eggplant Purée.
Recipe – Serves 6
Charred Eggplant Purée
~ Ingredients ~
1 large eggplant
1 12 oz can chickpeas
2 Tbs tahini
Juice 2 meyer lemon
1/2 head of garlic
1 Tbs pmegranate molasses
2 oz extra virgin olive oil
to taste salt and pepper
~ Instructions ~
1. Roast garlic in 325*F oven until sweet (45 – 65 MIN)
2. Char eggplant over an open flame until skin is burnt
     Immediately place in heat safe dish and cover with plastic wrap
     Peel once cooled, reserve the burnt skins
3. Combine all ingredients in food processor once cooled
4. Add in some of the burnt skins for a nice bit of char to round out the dish
5. Serve in a savory cone or enjoy as an earthy dip or spread
ALMOND BRITTLE
~ Ingredients ~
1 C raw whole almonds
1/2 C sugar
1/2 cup water
2 oz coconut oil
3 Tbs za'atar
2 tsp kosher salt
~ Instructions ~
1. Preheat oven to 350*F
     You will need a nonstick baking mat & sheet pan
2. Combine sugar and water in a sauce pot
3. Over a high flame bring to boil, cook until 240*F
4. Add remaining ingredients and combine well
5. Pour onto prepared sheet pan
6. Bake for 15 minutes or until caramel starts to brown
     This will continue to cook as soon is it comes out of the oven
     Let cool thoroughly before touching
7. Break into clusters and enjoy over eggplant purée
SAVORY CONE
~ Ingredients ~
1 1/4 C flour
2 Tbs everything spice
1/2 tsp salt
1/2 tsp sugar
4 oz (1 stick) butter – chilled
4 Tbs ice water
as needed – bench flour
~ Instructions ~
1. 1. Pre heat oven to 375*F
     You will need baking horns (metal cones)
2. Combine dry ingredients minus everything spice in food processor
3. Add cubed butter and pulse together just a few pulses
4. Add cold water, little at a time until dough forms
5. Rest dough covered for 20 minutes
6. Roll out the dough
7. Sprinkle everything spice onto surface and work in with rolling pin
8. Shape dough around horns and bake for 6 – 8 minutes


Club Allocation membership offers unique benefits for our supporters to get the most out of our bi-annual releases in the spring and fall, with the opportunity to acquire additional wines throughout the year during our Rosé, Pinot Blanc, and Casteñada Releases.