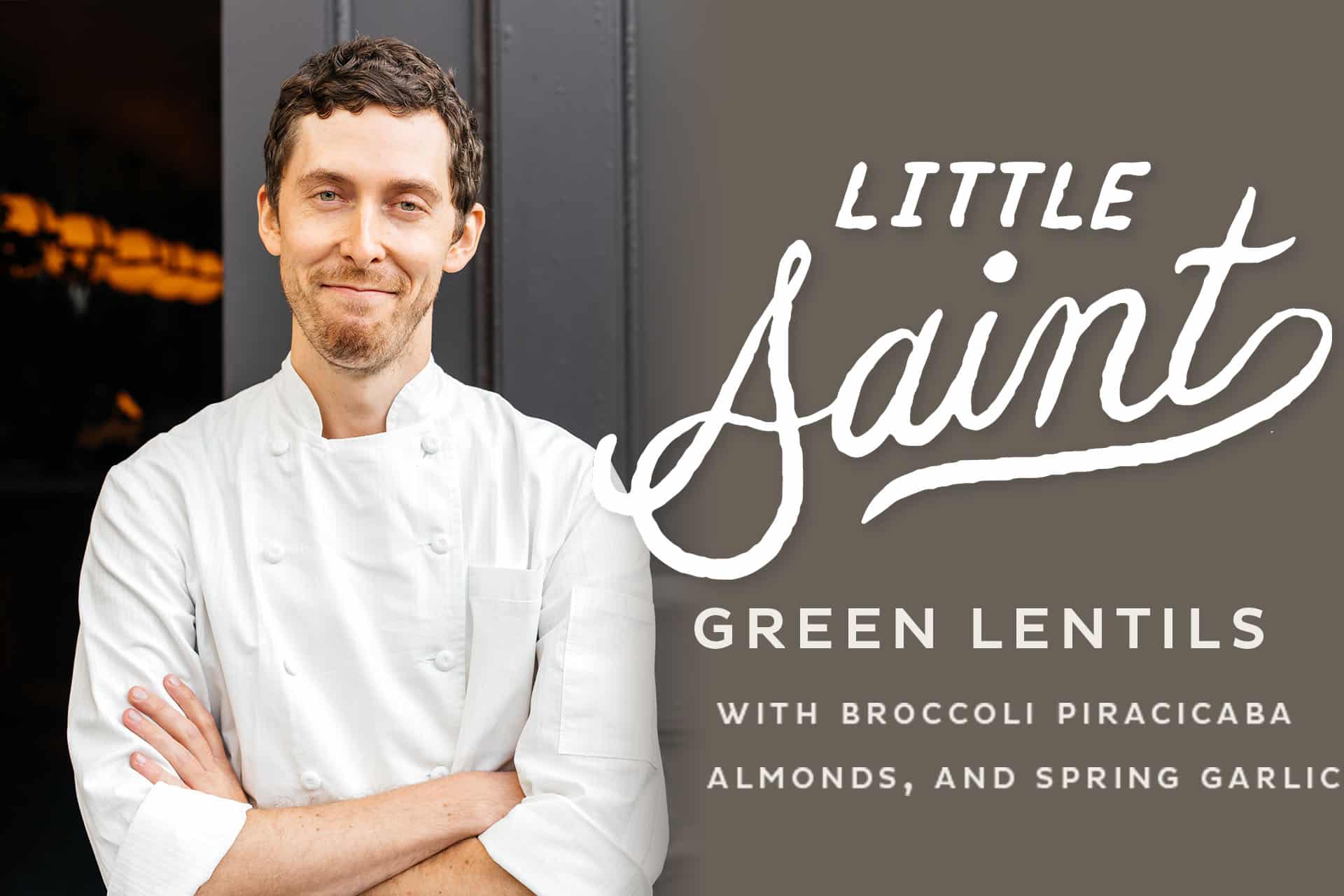 February 2022
Located in the heart of historic downtown Healdsburg, Little Saint is a plant-based cafe, restaurant, and wine shop opening in early 2022 from our friends, Kyle and Katina Connaughton of three Michelin-starred SingleThread Farm. With the expertise of Chef Bryan Oliver at the helm, they generously created a spring-inspired recipe with our 2019 Russian River Valley Pinot Noir in mind. Our hope is that you uncork our new spring wines and cook up a delicious meal to share with friends and family.
-Valley
Recipe – Serves 4 -6
Green Lentils with Broccoli Piracicaba, Almonds, and Spring Garlic
~ Ingredients ~
Green Lentils
1 ½ C Green Lentils
2 Tbsp Olive Oil
1 ea Shallot, Julienned
2 ea Garlic Cloves, Microplaned
1 Tbsp Tomato Paste
¼ tsp Black Pepper, Ground
3 ½ C Vegetable Stock
1 tsp Thyme Leaves, Chopped
¼ C Red Wine
1 ea Bay Leaf
1 C Almond Milk
½ bu Red Russian Kale, Sliced Thinly
1 tsp Salt
Roasted Piracicaba Broccoli
1 ½ lb of Broccoli Florets, Stems, and Leaves
1 C Green Garlic Bottoms (White), Sliced Into ¼ " Coins
2 Tbsp Olive Oil
¾ tsp Salt
1 tsp Cumin Seed, Ground
⅛ tsp Chili Flakes
2 Tbsp Meyer Lemon Juice
1 Tbsp White Miso
Green Garlic and Almond Salsa Verde
½ bu Parsley Leaves, Finely Chopped
½ bu Chives, Thinly Sliced
½ C Green Garlic Tops, Thinly Sliced
¼ C Olive Oil
½ tsp Cumin Seed, Ground
½ tsp Coriander Seed, Ground
½ C Almonds, Toasted and Roughly Chopped
½ tsp Salt
2 ea Meyer Lemons
Garnish:
1 C Mustard Flowers and or small flowering broccoli florets
~ Instructions ~
For the Creamy Green Lentils:
Begin by rinsing the lentils under cold water to remove any dirt or impurities. Leave the lentils to drain in a fine mesh strainer. Meanwhile, heat the olive oil in a medium sized saucepan or dutch oven over medium heat. Sweat the julienned shallots and microplaned garlic for 3-5 minutes or until translucent. Add in the tomato paste and black pepper and continue to cook for an additional 2 minutes. Deglaze the pan with the red wine and reduce until au sec. Add the lentils, vegetable stock, thyme, and bay leaf to the pan and bring up to a boil. Reduce the heat to a low simmer and continue to cook the lentils for 30-40 minutes or until tender. Add in the kale, salt, and almond milk and cook for an additional 5-8 minutes until the kale is wilted and the mixture reduces slightly. Remove the bay leaf before serving.
For the Roasted Piracicaba Broccoli:
Begin by mixing the miso, lemon juice, cumin, and chili flakes together in a bowl. Set aside. Preheat an oven to 450°F. Toss broccoli, green garlic, olive oil, and salt together and spread out evenly over a sheet tray lined with parchment paper. Roast in the oven for 10-15 minutes or until the broccoli is tender and crispy. After broccoli is roasted, toss in a bowl with the miso-lemon paste to season.
For the Green Garlic and Almond Salsa Verde:
Mix together all ingredients except lemons. Season the salsa verde with the zest and juice of the meyer lemons.
To Assemble:
Ladle the creamy lentils into a wide bottomed bowl or serving platter. Distribute the roasted broccoli evenly over the top of the lentils and spoon the salsa verde over the dish. Garnish the dish with small flowering broccoli florets or spring mustard flowers.


Club Allocation membership offers unique benefits for our supporters to get the most out of our bi-annual releases in the spring and fall, with the opportunity to acquire additional wines throughout the year during our Rosé, Pinot Blanc, and Casteñada Releases.